Discover the Auvergne
From our spa hotel in Besse-et-Saint-Anastaise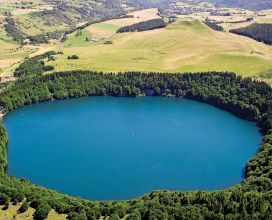 From our hotel in Besse-et-Saint-Anastaise at the foot of the Massif du Sancy, discover all the beauty of the Auvergne region whatever the season, and enjoy the many activities on offer nearby.
Close to the Super Besse ski area, the hotel is located less than a quarter hour away from the ski slopes (just 1 minute from the shuttle bus stop). Located in a well-preserved environment at the heart of grandiose landscapes, the ski area is at an altitude between 1300 and 1850 m and consists of 85 km of Alpine ski pistes thanks to the connection with Mont-Dore (the Sancy area) and 118 km of groomed cross-country pistes (Espace Nordique du Sancy). You can also go snowshoeing to discover the mountains and its hidden treasures.
Located close to lake Pavin and the Monts Dore, La Gazelle is the perfect place to stop for hikers crossing the Puy de Dôme and the Volcans d'Auvergne Regional Natural Park. Explore the hiking trail around Lake Pavin (around 1 hour), the Puy de Sancy volcanic mountains (accessible to families on foot or by cable car), the nature reserve of the Chaudefour Valley, and the Dent du Marais cliff overlooking Lake Chambon.
Whether you love climbing, horse-riding, mountain biking, helicopter rides, hot air balloon rides, swimming or fishing, you'll be spoilt for choice! A stone's throw from the hotel, you can enjoy mini-golf and tennis.
Things to see nearby include the Château du Murol, the Site Troglodyte de Jonas (a caveman site), the village of Saint-Nectaire with its Roman art, the Vulcania theme park and the town of Mont-Dore with its thermal baths.