Discover the Puy de Sancy
Near our hotel-restaurant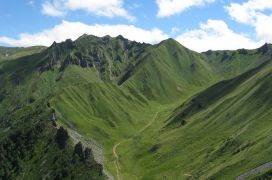 At the heart of the Volcans d'Auvergne Regional Natural Park, the Puy de Sancy is the highest point of the Auvergne (1886 m), and is a paradise for hikers with its quasi-Alpine atmosphere. A crossroad for many of the "Grande Randonée" walking routes (GR4 and GR30), it opens up to a seventh of France. The highest summit of the Massif Central provides a superb view over the glacial valleys and the sharp peaks as well as the volcanic mountains of the Cantal department, the Puy mountains, Mézenc and Forez. On bright, clear days, you can even spot the Alps!
Despite its mountainous air, the Puy du Sancy remains a a real volcano. At the summit, the crater point, its formation began 5 million years ago and which only stopped erupting 250,000 years ago. Composed of several volcanoes connected to successive eruptive phases, it has extended over an area three times larger than that of Vesuvius, and with its craters rising up to nearly 2,500 m in altitude. Action in the glacier during the Here, the hardest rocks into needles, digging cirques, valleys and escarpments were sharpened here where the terrain was the most tender. The Puy de Sancy lost more than 600 m in altitude during this slow erosion, giving today's Alpine-like profile.
To get up the peak of Sancy by locomotive, there are two options. Hop aboard the old Capucin funicular riding high over the woods (a listed historic monument, 10 minutes away) or for something quicker and more practical, take the cable car 3 km from the town of Mont-Dore. After a vertical ascension of 3 minutes, walk up the Puy de Sancy (around 20 minutes) for a stop right at the summit.